You've imagined how your every fantasy about your ideal wedding day would come true. Elite Bridal Consulting specializes in ushering your fanciful dreams into your perfect reality.
From every elaborate detail to each classic creation, our team of wedding and event designers will use their expertise to customize the events surrounding your wedding and making you the Belle of the Ball on your special day.
My wedding was absolutely FABULOUS.
From our first meeting, I knew right away that Kyna was going to make my vision come to life. I can honestly say that whatever I wanted, she made happen. It takes a lot to deal with a client who lives most of the year overseas, but Kyna proved over the course of those two years that she would make July 11, 2015 the day I had always dreamed of. Kyna, and the elite team, were timely, organized, professional, and had so many contacts that I would have never found on my own. My wedding was absolutely FABULOUS. Kyna and the Elite team delivered everything I could have asked for. If you are thinking you can do this alone, stop right there. Why stress? Elite will deliver a wedding with a lasting impression!!
Kiarra Logan
far beyond our expectations
Kyna and her team at Elite Bridal Consulting did a phenomenal job of understanding our vision, helping us refine it, and executing far beyond our expectations. She was very flexible and helped us book amazing vendors that fit our needs and personalities - even with one of us living several states away at the start of the planning process. It was a pleasure to work with Elite and we
can honestly say that our wedding wouldn't have been the same (or as stress-free) without them as essential members of our "team"! Thanks again for everything!!!
Rodney & Tiffany Hollis
THERE WAS ONLY ONE PERSON in the world who could make my vision come to life!
There was only one person in the world that could make my vision of a Vintage Glam wedding come to life and that was Kyna Lee! Kyna knows the devil is in the details and she guided my husband and I through them all. Floral decor, linens, music and food selection, Kyna and the Elite team were right by our side. The Elite team made sure that our wedding day went off without a hitch. We still receive compliments on how beautiful our day was. Thank you Kyna Lee for making our wedding day the best ever!
Kristian Strickland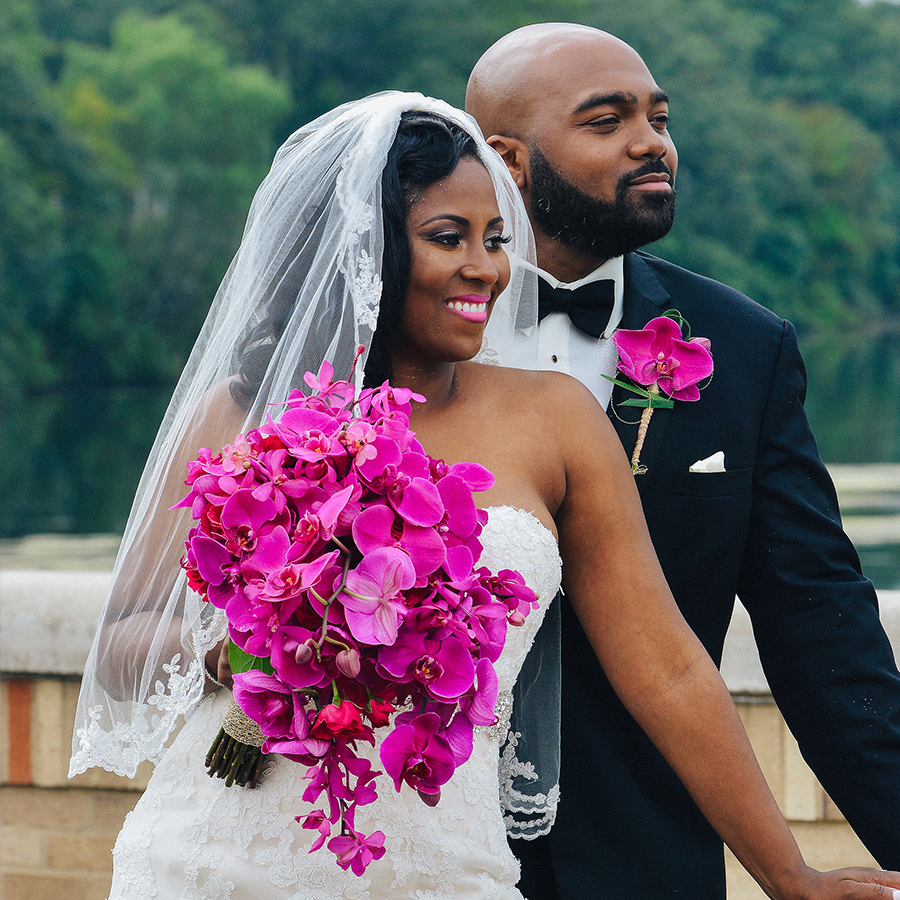 above and beyond the call of duty
My husband and I are so very grateful to have had the opportunity to work with Kyna Lee and Elite Bridal Consulting. Kyna Lee and her team were extremely professional and resourceful. They helped us secure top-knotch vendors and negotiate reasonable rates on all the bells and whistles we wanted for our wedding. Kyna Lee went above and beyond the call of duty to make sure our wedding reflected our blended personal styles. She not only planned our perfect wedding day, but also kept us on task, within budget and created a fabulous decor. When you book Kyna Lee you get two in one - an experienced planner and an outstanding decor designer!
Niquelle Winfrey
If I had to choose one word to describe my experience working with Kyna as my Event Specialist for my wedding, it would be PHENOMENAL! After spending 8 stressful months planning my wedding and finishing nursing school, my fiancé and I decided to hire someone to take care of the final details for our special day! My husband and I immediately thought of Elite Bridal & Consulting! Kyna is a visionary and is so detail oriented! She provided flawless execution of my vision and was an absolute joy to work with! I highly recommend her services! She definitely exceeded our expectations and created memories that will be with us for a lifetime! We love you Kyna!

John & Kori Morgan
ABOUT ELITE BRIDAL CONSULTING
Refinement,luxurious, crème de la crème… Elite Bridal Consulting …..Experienced in bringing the awe inspiring finishing touches on any bridal occasion and special event.
Since 2003, Elite has catered to the most discerning brides desiring stylish and chic wedding designs.
When you work with Elite you are getting competent, talented, and avant garde designers with fresh ideas. Let us produce your extravagant day and you'll enjoy every moment of your wedding and event stress-free.